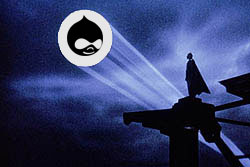 Regular Drupalcon attendees know that the opening pre-keynote session is one of the highlights of the con. That's the session where we welcome everyone to the con with stupid jokes, some well known Drupalists, and a lot of fun. This year is going to be especially good – and we need your help!
The evil Lord Over Engineering is threatening to delay the release of the CMS, which we need to save the world! The only way to stop him is to assemble the greatest force of Drupal superheroes ever assembled! Can the heroes save the day? Can we manage to make the final git push? You'll have to be there to find out!
"If you only get up early once during DrupalCon, this is the morning to do it. And hey, at least you'll get better seats for my keynote right after." — Dries
In Prague we had the Drupal Opera, with solos sung by Gabor Hojtsy. In Portland we had the Drupal Game show, including Doug Vann's amazing beatbox of the Tetris theme. In Munich, we taught the world to yodel and pour good German beer. Don't miss out this year! The fun is just getting started!
If you want to participate onstage, you can go to Robert Douglass' blog and sign up with our superhero/villain application form. But even if you just want to party from your comfy chair in the audience, costumes are encouraged! So get your best superhero costume together, and I'll see you at the pre-keynote!