I recently got a new Android phone, and very quickly had trouble installing some of my favorite apps. Google's Play Store downloads the app successfully, then presents me with "Unknown Error -505".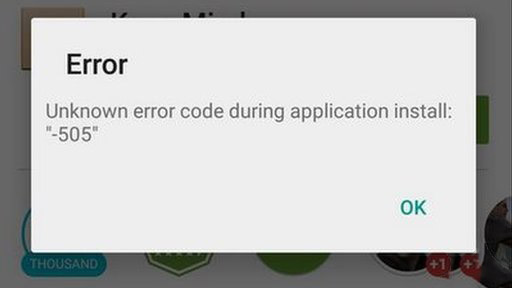 This error message means precisely nothing. It means "something went wrong during installation, and we're not telling you what." This drives me crazy. This blog post is about how to get more information out of that error message, and how to fix the problem.
Your device is not going to give you more information on its own. Instead, you need to install ADB, the "Android Debug Bridge" which lets you type commands directly to your Android device over a USB connection. It's not hard to install, so go and set that up now.
Next, you will have to make sure your Android device permits you to use ADB. On the phone, go to Settings > About Phone, and scroll down to where you see "Build Number" listed. Tap on "Build Number" until you see a popup telling you that you are now a "developer". Then go back to Settings, and tap on the new "Developer Opt…